The Making of Reality TV!
"Reality TV, here we get to face all that you have been running away from. Here we get to call out all that we have not been willing to face in order to acknowledge their existence so that we can make a conscious decision to let them go. We will be looking at the subjects; Soul Searching. Beliefs. Resistance and Our life stories." Selina Stone
The Making of a Star
Stars and Heroes mental health checks covering; Identity, Career, Body and Lifestyle. All you need to know to be your own life coach and brand guru step by step with 30 minute sessions 1-1 online or view website for check briefing and use star keywords for research.
Enjoy reading your life story as a star playing the leading role in "Your Blockbuster Movie!" Sharing your secrets of success, of how you handled it all; making your way from rock bottom to the top.
Stars and Heroes Mental Health Checks with 5 Star Press Release.
Remember your journey and all you have covered with your 5 star press release upon completion of each mental health check 1-14 for the revealing of "Star You" here in the physical world. See the results for yourself of all that has been assimilated and processed by you in real time. This is your time to the release the past with the presenting of the real you. The version seen of you as A real life star and hero!
Star Report 15 things documenting top 3 things per step + 3 highlights check review.
Star Photos pap snaps 5 edited shots used for star video + report.
Star Video presenting 4 star statements with the creation of 1 per step + destination intro.
Star Credit presenting at Reality TV, revealing of star identity – the leading role.
Star Certification Completion 3 hours focused on personal growth and personal development.
Casting You Level 1 revealing of Star Identity.
Step into character for the making of your life story as a star!


Follow the story of the making of stars and heroes!
Check into Reality TV for exposing of the triggers before going LIVE!
Be ready with star re writes for your life story; Inspiring victim to hero.
"Collect 1 star with each step + check review for 3 fact Report."

There is an initial block caused by society related to religion acceptance. I see there has been fear of rejection based on religion since the society taught us that "Muslims" are more inferior. This also caused an internal phobia related to accepting oneself since religion rules are broken, and there is a fear of immediate punishment from God.
Meet Triggers, your tour guide, watch her visit to Reality TV.
See Triggers at play with the making of steps 1-4 and cross reference Triggers stories with those of your own.
Trigger´s Say…
Beliefs run our life; we act them out on an unconscious level and they will determine our levels of success and happiness in life. We are here to evaluate the beliefs we hold about ourselves and check they are in alignment with who you see yourself as.
If they are not, and we find that the beliefs we hold are unhealthy then we need to do something about it, nip it in the bud! Know what to look out for; how to check in, be 100% congruent in both word and action.
"Now let us begin with the assimilation process for the making of Stars & Heroes.
Remember your visit to Reality TV and all you covered with your 5 star press report & video."
Imagine being made famous.
We go to check in 1; Reality TV, the heart and core for the profiling of a stars background, any skeletons in the closet the paps will find!
We are avoiding gossip and scandal with the strengthening of our belief system ready for public pressure.
We are finding triggers and deactivating them one by one before public exposure with star re writes and the set up of a stars blueprint!
The time is now to check in with self and discover who you really are; your essence, energy, value and worth! Time for a deep clean from within and the release of all that no longer serves.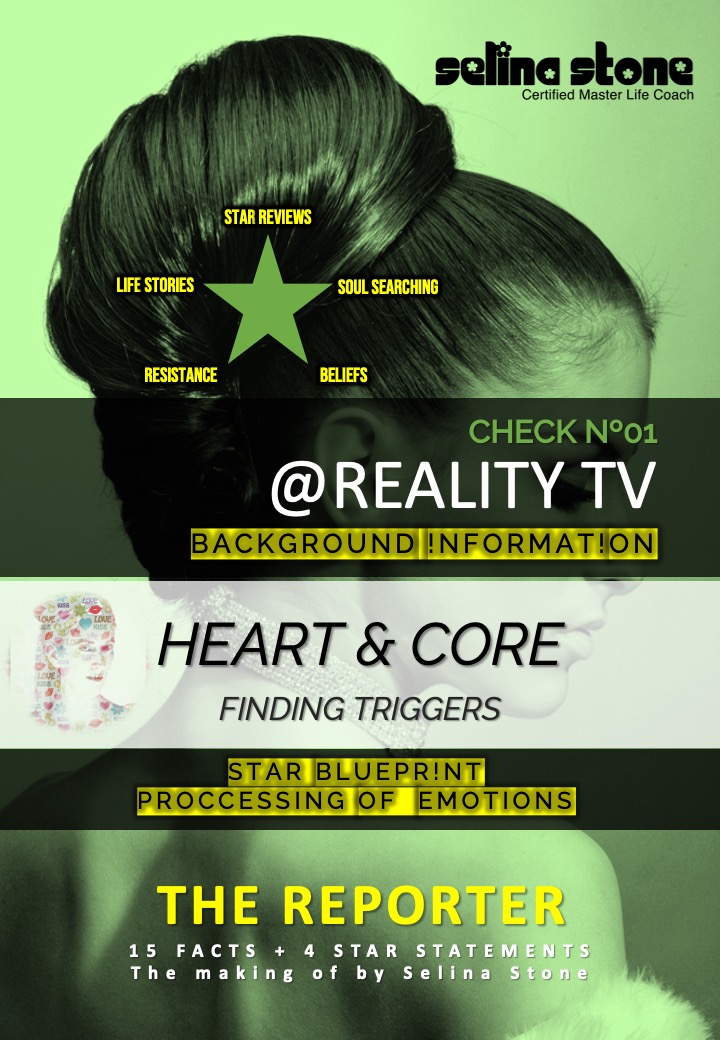 Star Brief Nº1: The Call Back for Reality TV Show!
Your status is Casting; Jobless and broke, nothing to lose, starting over from zero. You have just received a call out of the blue, letting you know it's your lucky day and that you have just been pre-selected to go LIVE 24/7 and star in the next big reality TV Show. Your life is about to change into something you have never experienced before.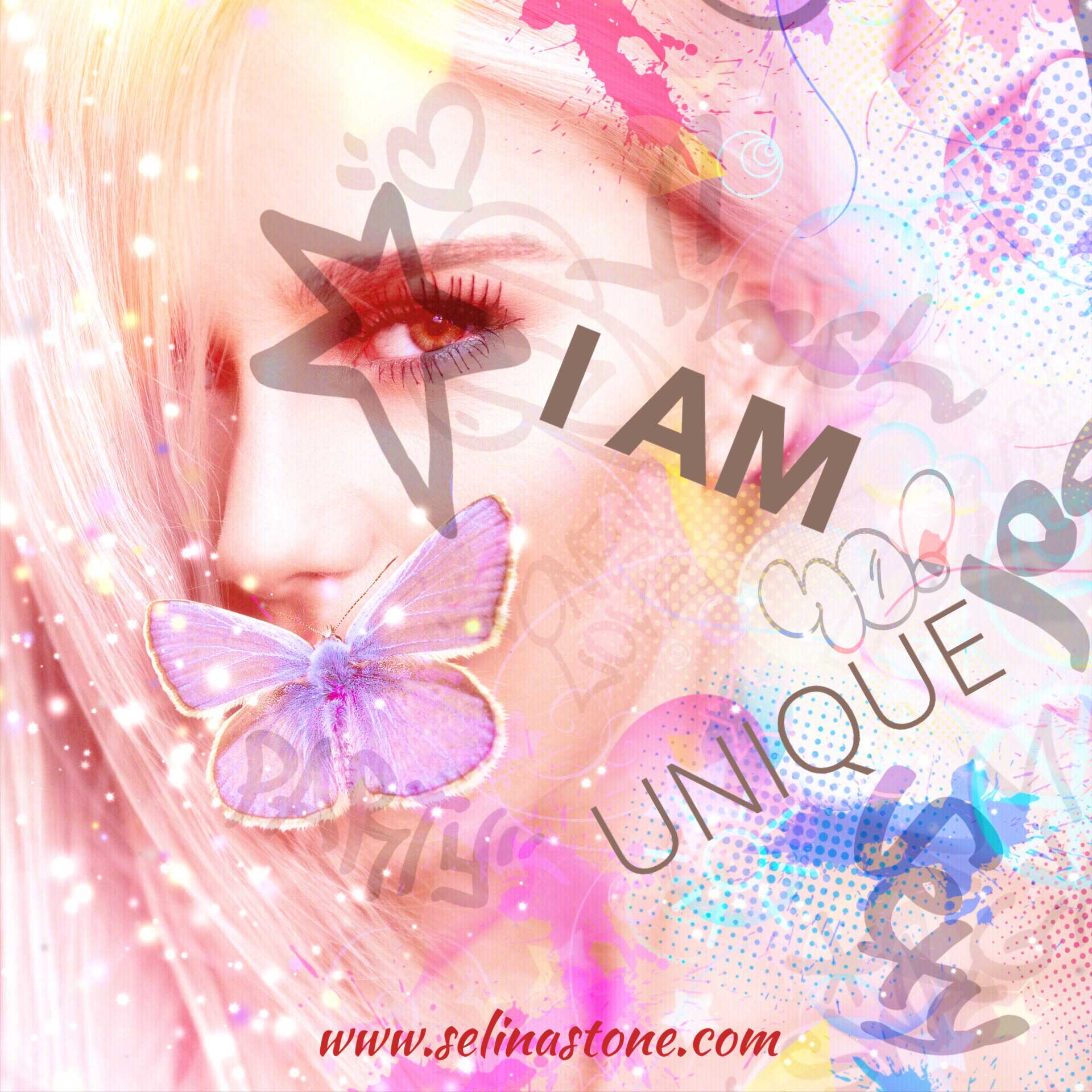 Exposing Triggers
If you have anything to hide, personal triggers; be prepared. Here all will be exposed and aired for the whole world to see!
Can your mental health take the pressure off the paps and your fans? The good and the bad that may come to light?
Be prepared with the re writes of your life story inspiring victim into hero!
Journey of Self Discovery for Stars & Heroes
Release;
60 highlights covering checks 1-4.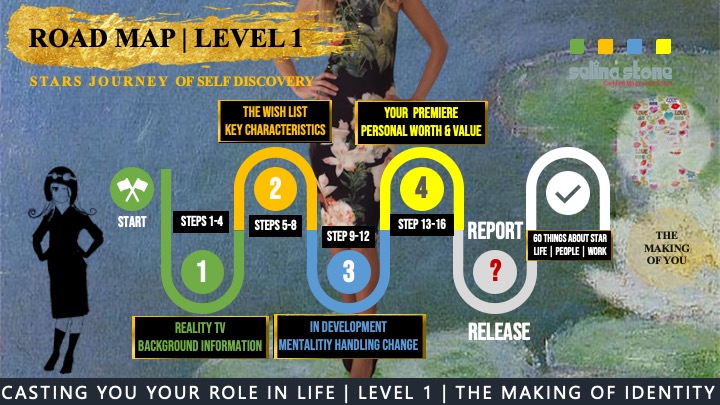 Star Lines:
16 new star statements going viral.
Write:
3 things that stood out with each step take.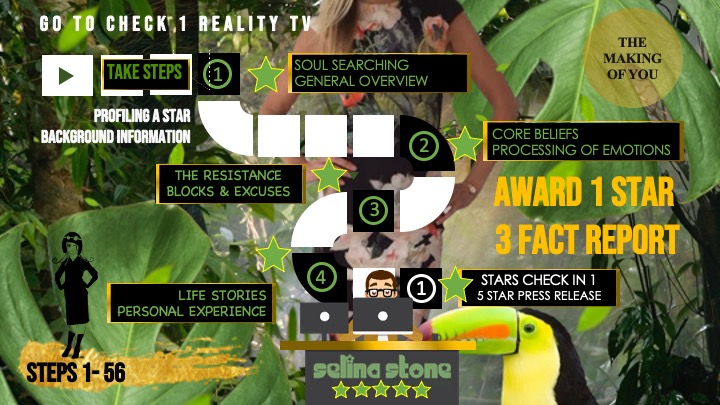 Review:
4 steps taken; then write your top 3 highlights.
Document:
15 things about you ready for 5 star press report.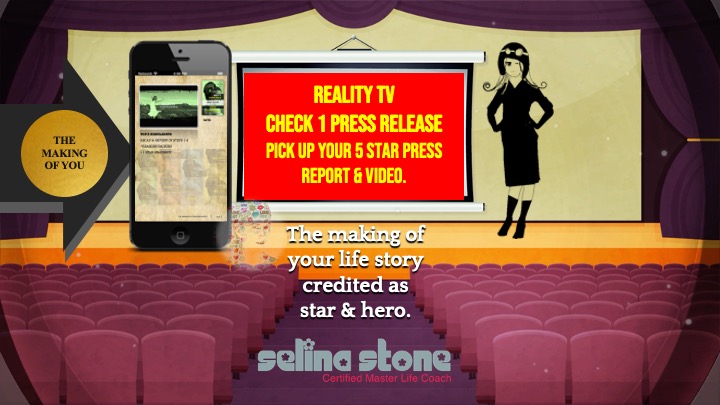 Star Video
Present;
5 snapshots, 4 star statements vid press release.
Receives:
5Star Press completion 4 steps + review.
Edit Mac/Pc:
4 Steps + Report + Video with 4 x 1 hr sessions.
Certified 3 hrs:
Time spent on personal growth & development.
Certified 4hrs:
1 mental health check + editing & publishing.
"The only limits to the possibilities in your life tomorrow are the buts you use today" – Les Brown